3.0m Metocean Buoy (Albatross)
OSIL's Albatross Buoy is a versatile instrumentation platform ideally suited for collection and measurement of oceanographic, meteorological (metocean) and water quality data parameters in open water applications, as well as coastal areas.
Instrumentation can be deployed anywhere from near surface to the seabed. The buoys can be moored in a fixed position with either single point, dual point or compliant mooring (where required).
The system is supplied with a range of sensors that can specified by the customer (including CTD, DO, pH/ORP, Turbidity, Chlorophyll, Rhodamine, current speed/direction, wind speed/direction, temperature, humidity, pressure, rainfall and solar radiation, as well as a GPS locator). All buoys are fitted with solar panels, navigation/warning lights and other markings as necessary. A range of telemetry options are available (UHF/VHF, GSM, GPRS, Satellite), selected to suit both the location and application requirements. OSIL provide a complete data telemetry solution, including either desk top or web-based software packages to access the data.
The buoys are 3 m in diameter, with a total buoyancy of 8000 kg, and have a reserve buoyancy of 6000 kg after fitting the equipment such as solar panels, battery packs and monitoring instrumentation, etc.
The OSIL range of buoys are manufactured using rotationally moulded polyethylene hulls, which are foam filled for added security. The hulls are constructed around a galvanised steel or welded polyethylene central structure, which has a large hole through the centre which allows the passage of instrumentation and cables from the tower down through the water column to the seabed. By utilising a 'Moon Pool', instrumentation in the centre of the buoy is well protected from damage during deployment and operation.
Contact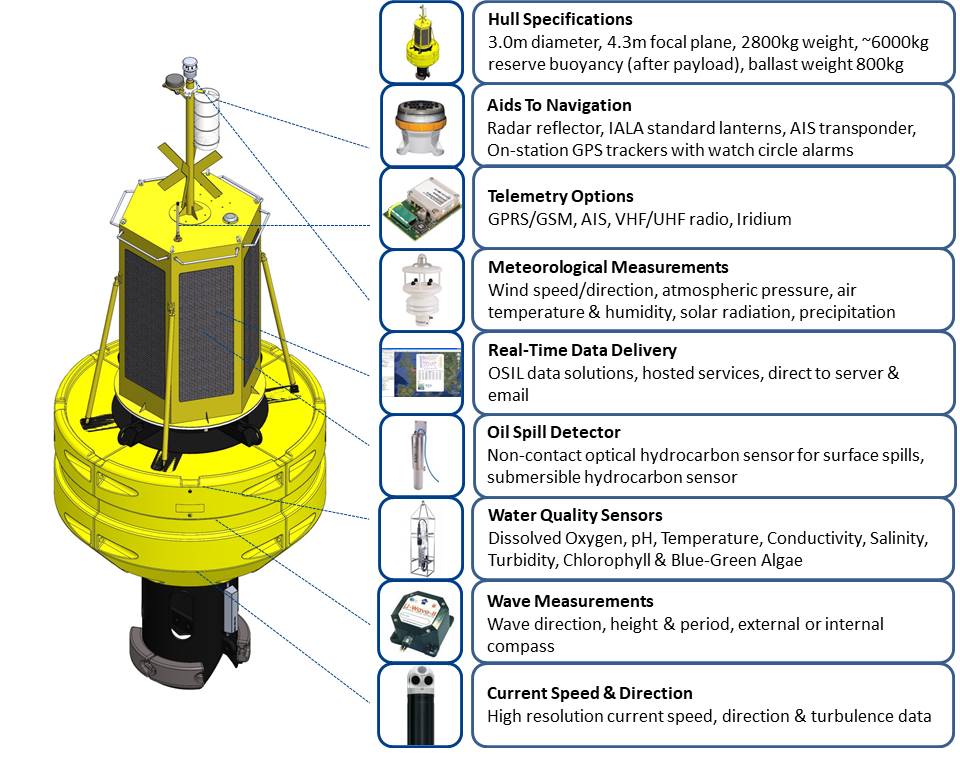 Features
---
Robust construction

Modular design making transportation easy and replacement of equipment simple

Through hull compartment for safe positioning of equipment

Interchangeable components

Highly stable in operation

Solar power systems available as self-contained modules or separate larger panels for higher power load

Range of towers available to suit the application

Mooring systems available for inshore waters and open sea locations
Applications
---
Offshore design and operations

Meteorological and climatological studies

Suitable for deepwater operations

Harbour monitoring

Coastal engineering

Scientific studies

Wave energy studies

Maritime traffic control

Water quality control studies
Technical Specifications
---
Diameter 3m

Reserve Buoyancy (after payload) 6000kg

Weight 2800kg

Focal Plane 4.3m

Ballast Weight 800kg
Sensors
---
Met (Wind speed & direction, Temperature, Barometric Pressure, Humidity, Precipitation, Visibility, PAR)

Water Quality (CTD, DO, pH, Turbidity, Chlorophyll A, BGA, PCO2, TSS)

Oceanographic (Current speed & direction, Wave height & direction)

Additional sensors can be incorporated, please contact us for details.